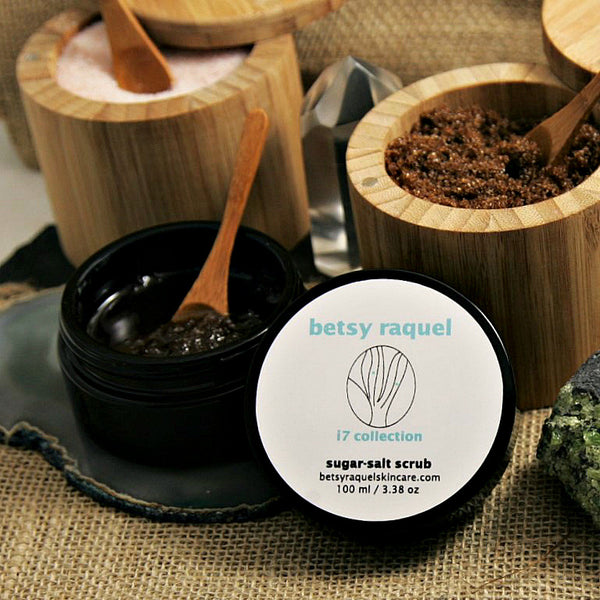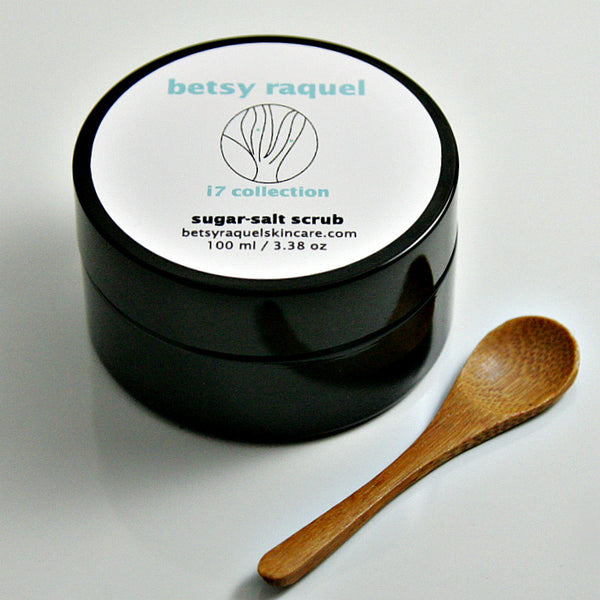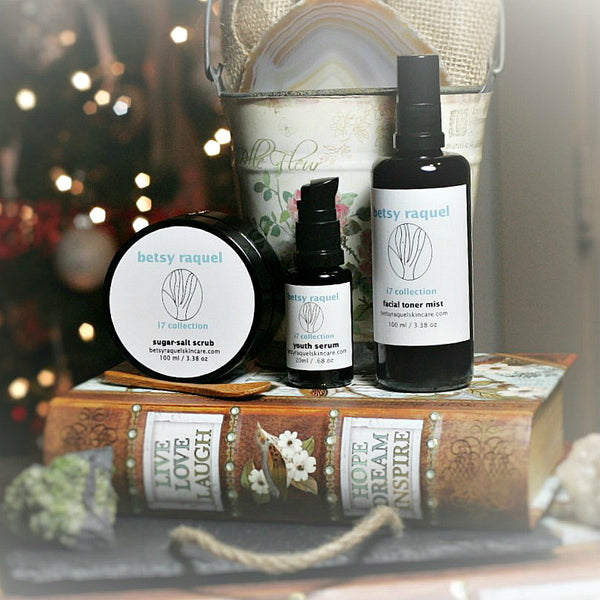 Sugar-Salt Scrub
INGREDIENTS  | 100 ml / 3.38 oz | Non-GMO, USDA Organic & Kosher Certified Brown Sugar | Kosher Certified Extra Fine Himalayan Pink Salt | Non-GMO, USDA Organic Certified Argan & Moringa Seed Oil | Non-GMO, USDA Organic Certified Coconut Oil | Non-GMO, Kosher Certified Peppermint & Rosemary Essential Oil
FACIAL USAGE  Use weekly.  Leave face damp after cleansing and rinsing skin with warm water.  Use bamboo spoon to stir contents and scoop scrub into palm of hand.  Gently massage scrub over damp face and neck area with fingertips in circular motion to exfoliate.  Leave on for two to three minutes and allow oils to soak into skin.  Gently remove scrub with warm wet cotton cloth.  Pat dry with dry cotton cloth.  NOTE: May use twice a week on body.
BENEFITS  Exfoliation gently helps remove dry, scaly lifeless skin from face and body.  It may also be very effective with unclogging pores, promoting healthy, speedy turnover of skin cells, balancing oil production, purifying the pores of toxins and dirt, smoothing skin tone, and creating a radiant, silky, fresh overall look and feel.  The essential oils in our scrub are known to contain antibacterial properties that may also help fight impurities.
CAUTION  Keep this product out of reach of children.  For external use only.  Avoid contact with eyes.  If scrub gets into eyes, flush with water – do not rub eyes.  Salt crystals can scar skin and cause discomfort if applied vigorously  – be very gentle when applying.  Because of salt's stinging properties, do not apply on irritated or cut skin.  Salt scrubs are abrasive and are not meant for daily use.  Slight redness may occur on face during application but should go away after 15-20 minutes.  If any irritation develops, reduce the intensity of scrubbing.  If irritation persists, rinse scrub off immediately and discontinue use.  If pregnant or lactating, consult your healthcare practitioner before using our sugar-salt scrub.  Our scrub contains oils derived from nuts and seeds – if allergic to nuts and seeds, do not use.  Perform a patch test on forearm just below arm crease and allow oils to be absorbed for 24 hours – do not use on face or body if irritation occurs on arm.  Use caution when using scrub in shower or bathtub – oils can create a slippery surface.